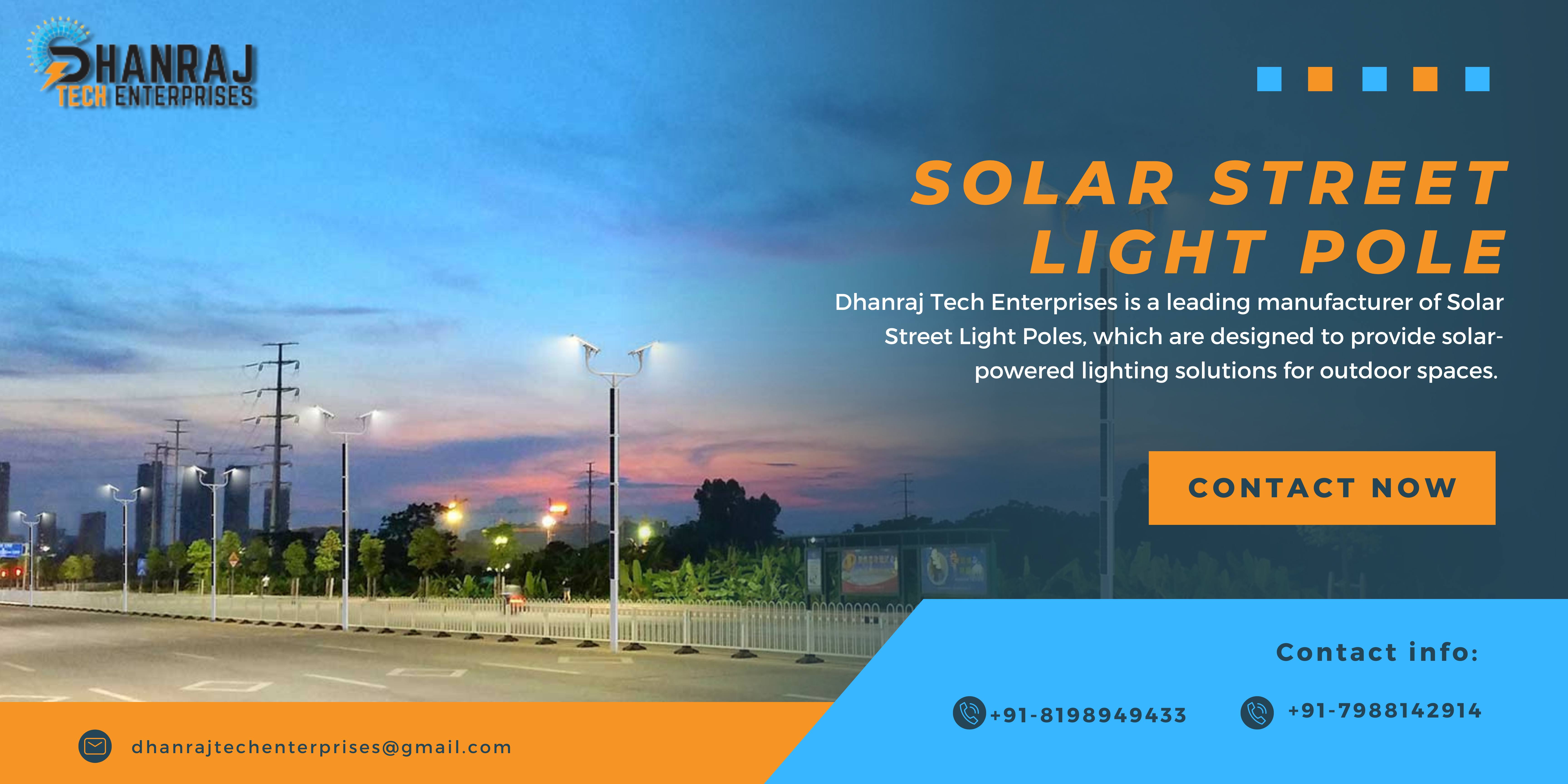 Solar Street Light Pole
Dhanraj Tech Enterprises is a leading manufacturer of Solar Street Light Poles, which are designed to provide solar-powered lighting solutions for outdoor spaces. Solar street light poles are eco-friendly, cost-effective, and a practical alternative to traditional street lighting solutions. Solar street light poles from Dhanraj Tech Enterprises are made of high-quality materials such as aluminum or galvanized steel, ensuring durability and long-lasting performance. The poles are designed to withstand harsh weather conditions and are corrosion-resistant, making them suitable for use in various outdoor environments.
Dhanraj Tech Enterprises offers a range of solar street light poles, including single-arm, double-arm, and triple-arm designs, providing customers with different options to choose from based on their specific needs. The company also provides customization services, allowing customers to choose the size, color, and design of the pole to fit their specific project requirements. Solar street light poles are designed to be powered by solar panels, which are mounted on top of the pole. The solar panels absorb sunlight during the day and store the energy in batteries, which are used to power the LED lights at night.
The LED lights are energy-efficient and provide bright, reliable lighting for streets, parking lots, pathways, and other outdoor areas. The use of solar-powered street lighting solutions offers several benefits, such as reduced energy costs, lower maintenance costs, and reduced carbon emissions. By choosing Dhanraj Tech Enterprises' Solar Street Light Poles, customers can ensure that they have a reliable, efficient, and sustainable lighting solution for their outdoor spaces. In addition to manufacturing high-quality solar street light poles, Dhanraj Tech Enterprises also provides installation and maintenance services to ensure that their customers get the most out of their solar-powered lighting systems. With their extensive experience and expertise in solar energy solutions, Dhanraj Tech Enterprises is a reliable partner for customers looking for sustainable and cost-effective lighting solutions for their outdoor spaces.