Fastner & Nut Bolts Manufacturers & Suppliers in Haryana, Punjab India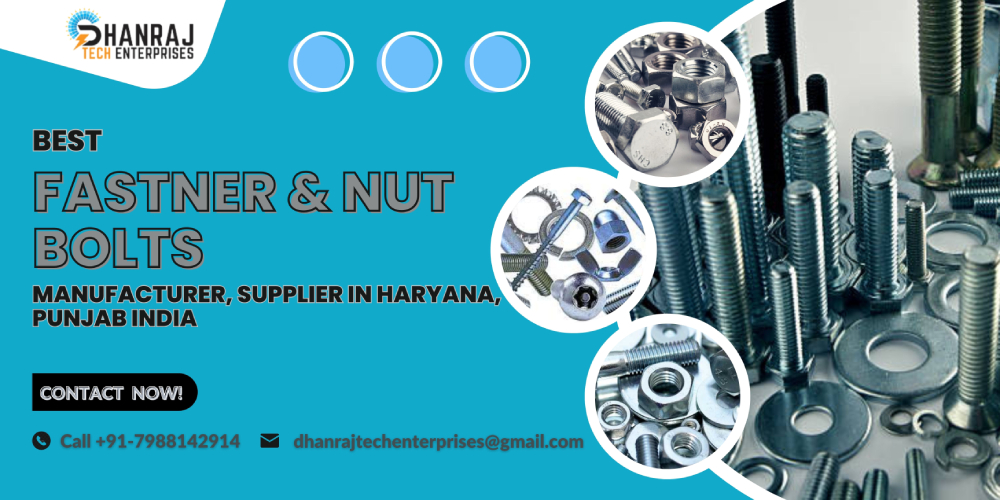 Fastner & Nut Bolts Manufacturers & Suppliers in Haryana, Punjab India
Introduction:
Welcome to Dhanraj Tech, your trusted destination for high-quality fasteners, nut bolts, and industrial solutions in Haryana and Punjab, India. As a leading manufacturer and supplier, we take pride in offering a comprehensive range of fastening solutions that cater to diverse industries, ensuring precision, durability, and unmatched performance.
Our Product Range:
A solar street light pole is a structure designed to support solar panels, lighting fixtures, and other components necessary for solar-powered street lighting. These poles play a crucial role in harnessing solar energy to illuminate outdoor spaces, such as streets, roads, pathways, and public areas.
1. Hex Bolts and Nuts:
Explore our extensive collection of hex bolts and nuts meticulously designed to meet industry standards. From standard to custom sizes, our products are crafted with precision to provide optimal performance in various applications.
2. Stainless Steel Fasteners:
Elevate your projects with our corrosion-resistant stainless steel fasteners. Dhanraj Tech delivers a wide range of stainless steel bolts, nuts, and screws, ideal for applications demanding durability and reliability.
3. High-Tensile Fasteners:
Choose from our range of high-tensile fasteners designed to withstand heavy loads and harsh conditions. Our products ensure structural integrity and safety in critical applications across industries.
4. Threaded Rods and Studs:
Precision-engineered threaded rods and studs are essential components for secure and stable structures. At Dhanraj Tech, we offer a diverse selection, ensuring compatibility with your specific project requirements.
5. Automotive Fasteners:
Trust our expertise in providing fasteners for the automotive industry. Our products are designed to meet the stringent requirements of this sector, ensuring reliability, safety, and longevity.
Quality Assurance:
At Dhanraj Tech, quality is at the core of our manufacturing process. We adhere to strict quality control measures, ensuring that each product meets the highest industry standards. Our commitment to excellence extends to using premium raw materials, employing cutting-edge manufacturing techniques, and conducting thorough inspections at every stage of production.
Custom Solutions:
Recognizing the unique needs of our clients, we offer customized fastening solutions. Our experienced team collaborates with you to understand your project requirements and delivers tailor-made fasteners that meet your specifications.
Why Choose Dhanraj Tech?
1. Reliability:
Count on Dhanraj Tech for reliable and durable fastening solutions that meet or exceed industry standards.
2. Expertise:
With years of experience, our team brings expertise and knowledge to deliver solutions that align with the evolving needs of various industries.
3. Customer Satisfaction:
We prioritise customer satisfaction by offering personalised service, timely delivery, and products that stand the test of time.
Contact Us:
Dhanraj Tech is your go-to partner for all your fastening needs in Haryana and Punjab. Contact us today to discuss your requirements, explore our product range, and experience the quality that sets us apart in the industry. Trust Dhanraj Tech for precision, reliability, and excellence in fastener manufacturing and supply.